Auckland Tertiary Case Competition Organising Committee 2020
Sorry, this opportunity has ended.
Details
Location: Auckland
Contact Email: christoph.ernst@unyouth.org.nz
Closing Date: 2019-11-03 23:59:00
Overview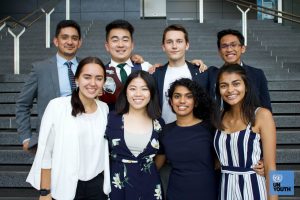 Do you have:
Passion for the work of UN Youth
Team-working skills
Efficient time management
Organisation and event management skills
Transparent communication
Confidence
If so, we want you!
UN Youth Auckland is looking for motivated and diligent university students to organise Auckland Tertiary Case Competition 2020, our flagship tertiary event!
The event was run as the flagship event of our tertiary programme for the first time in 2017 for around 150 students. While it is labelled as a case competition, the event is significantly different from other business-focused case competitions operated by other university clubs. The committee will have the discretion to reconsider whether this is the best branding for the competition.
More information about roles and how to apply can be found in the application pack.
For any general enquiries about the proposed opportunity, please contact our Incoming Regional President, Chris Ernst, at christoph.ernst@unyouth.org.nz.