Press Corps
The Press Corps programme is integral to NZMUN as it frames the narrative of the conference. Over the last two years, this programme has seen redevelopment and revitalisation to maintain its importance to the conference at large. Being a member of the Press Corps allows students to represent different press media outlets, such as, CNN, NZ Herald or Al-Jazeera, to name a few.
The media has always held an essential role in conveying information and heavily influences how much bias is portrayed in the news. While facts may follow a universal truth, the preference that is placed onto these facts to create stories and articles are not afforded the same intellectual purity.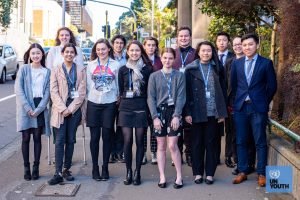 The Press Corps is responsible for accurately representing the press in the simulation of the United Nations, and will be reporting on and distributing data and information to delegates during the conference.
Being a part of the Press Corps allows students the opportunity to learn about journalism, hone their skills of writing and critical thinking, and gives students a chance to analyse how to represent best the media outlets they've been assigned to. This programme also provides conference delegates with a way to reflect on what they've been doing throughout NZMUN.
This year we have extended the scope of the past Press Delegate programme, creating an avenue for visual and audio creators to share their talents and develop their skills.
There are two roles for delegates to apply for within the Press Corps: the beloved Press Delegate role and the exciting new Visual Media Delegate role.
Press Delegates will be writing the narrative of what goes on in committee sessions throughout the conference, with guidance from trained Press Delegate Facilitators.
Visual Media delegates will provide the visuals to accompany this narrative, and are required to bring their own equipment (cameras and lenses, etc). They will be working closely with both the Press Delegates and the NZMUN media team.
For more info about the programme, and how you can be a part of it, please contact ishan.kokulan@unyouth.org.nz