Overview
NZ MODEL UN 2020 HAS BEEN CANCELLED DUE TO COVID-19 RESTRICTIONS
WHAT IS NZ MODEL UN?
NZ Model UN (NZMUN) is UN Youth's flagship Model UN conference. The event offers four days of thrilling debate, engaging guest speakers, and an all round inspiring experience. Due to the high quality of educational content and facilitation, delegates of all skill levels interested in global affairs, debating, or civics have the chance to experience the Model UN format at its most premier level. Guaranteed to provide education, excitement, and fun, this event is not to be missed. 
Hosted at Victoria University in the heart of Wellington, NZMUN offers secondary school students the chance to experience life as a diplomat. Between engaging problem-solving workshops, to simulated committee sessions, students will be given a platform to discuss important topics relevant to global affairs. In the process of debate, students will learn more about the world and their place in it as a global citizen. Furthermore, as a cohort of 280 like-minded individuals, students can band together, build friendships, and tackle the world – one problem at a time. 
Delegates will emerge from NZMUN, more equipped to make a difference in their communities, and become empowered to make an impact on the decision making which affects them. 
WHAT IS UN YOUTH?
We are a non-profit organisation that provides civics education outside the traditional classroom context. Through fun workshops and conferences, we engage youth in the most pressing affairs of their country and the international community. Our goal is to inspire young New Zealanders to be active, global citizens. Global citizenship exists in an incredibly diverse range of forms, and UN Youth provides opportunities for delegates to develop their own form of active citizenship. Throughout Aotearoa, our work equips young people to become informed, engaged, and critical New Zealanders who understand their global context and the connections between the local and the global. Annually, over 3000 young New Zealanders from Northland to Southland attend a UN Youth event, run by a body of 150 volunteers across the country who dedicate many hours of their time to engaging young people and growing the organisation. 
WHAT HAPPENS AT THE CONFERENCE
Committee Sessions
Each delegate will experience three committee sessions throughout the conference. These sessions are designed to encourage debate, critical thinking, and negotiation skills between delegates. There are also 3 special committees, in which select delegates are able to demonstrate a high level of in-depth problem solving as it pertains to certain UN bodies – such as the UN Security Council, the International Court of Justice, and NZMUN Crisis Committees. 
Workshops
Workshops feature engaging scenarios and formats which give delegates a chance to showcase and learn communication, creative thinking, and persuasive speaking skills. Separate from committee sessions, workshops do not require the delegates to be representing their countries while in them, but are rather a means of engaging delegates on an interactive level. Previous workshops have included Interactive Problem Solving (IPS) scenarios, ethics workshops, and negotiation based workshops. 
Apart from the educational content, there are also many social aspects to NZMUN. Chiefly, the Opening Ceremony, Regional Group Dinners, and of course, the Gala – a highly anticipated cocktail-style evening event for delegates to dance and network at the end of what is sure to have been an invigorating conference!
ACCESSIBILITY
We aim to make our conference accessible to all participants, so if you have accessibility needs, we will do our best to accommodate those. Please let us know how we can help you!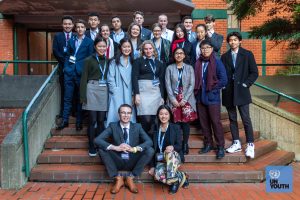 Any questions or issues please email Matt Illing at matt.illing@unyouth.org.nz