With the 2019 delegation of the Global Development Tour being announced, I thought it was a good opportunity to share some of the 2018 delegations experience, in the hope that it can inspire the next delegation and encourage those wanting to apply in the future.
Overview:
In January this year I was fortunate enough to be part of the 2018 Global Development Tour delegation.
We travelled around Europe and to New York learning about global development, international cooperation, and the role the United Nations plays in both. In essence we were shown the world through a future lens – as it could be in 2030, meeting policy makers, businesses and NGOs and being shown how they are working to meet the Global Sustainable Development Goals of the United Nations.
Each of the cities we visited represented a theme within the Sustainable Development Agenda and we looked at the SDGs from three different angles; Policy, Business and Community. It was incredibly inspiring to see the work and connectedness of these organisations in different parts of the world.  
We also were very lucky to attend a Model United Nations conference at Columbia University in New York.  CMUNCE hosts delegates from all over the world and it gave us an opportunity to actively participate and engage with like-minded delegates from varied backgrounds and the chance to engage in real-world diplomacy and listen to some fabulous speakers! My role as China on the Security Council debating the situation in Myanmar enabled me to further interact with Human Rights NGO's and learn about the real work that is being done on the ground.
The trip is a chance to meet new friends and create amazing memories. This has been an incredible life-changing experience and for those, thinking about applying in the future, DO IT, you will not regret it.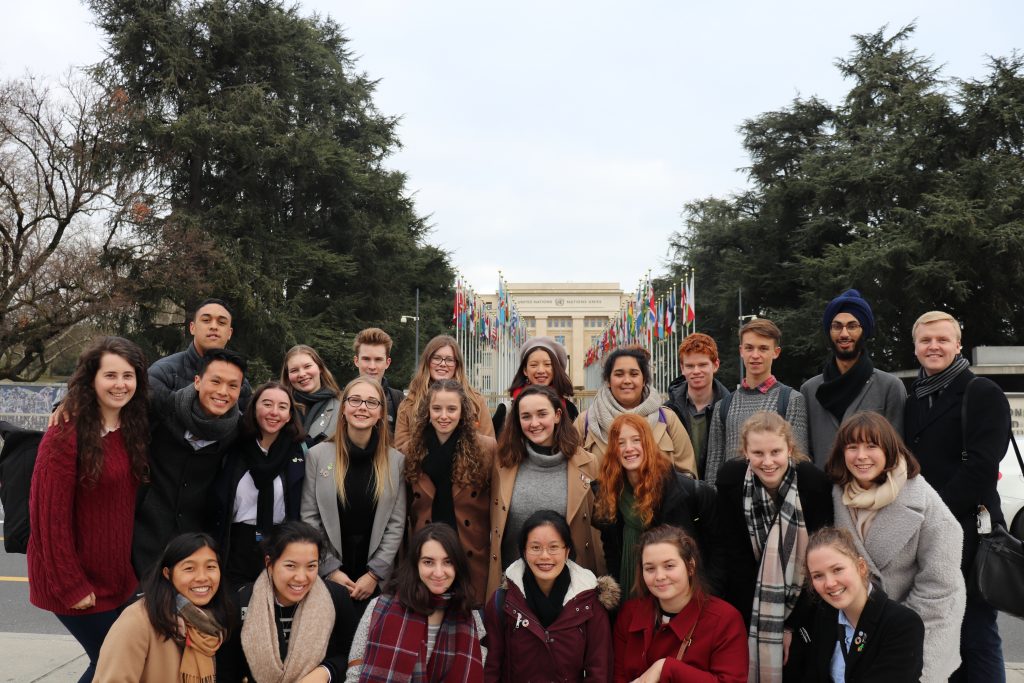 Further Reflections from other delegates:
Being one of the few delegates coming new into UN Youth in the GDT group, the trip had very different impacts on me. I had heard of the organisation but had not engaged with the events offered to people my age until the application for the Tour. I was honoured to have been picked from so many outstanding candidates and veterans of the organisation. The Tour changed my life because it opened me up to so many new people and new experiences. On the Tour we met many amazing people doing important jobs to attain the United Nations Sustainable Development Goals, people who could make real differences. We had the chance to listen to their past achievements, plans and future goals; while picking their brains and giving our own suggestions. Along the way we got to interact with the landscape of the world, living the cultural and historical differences. Since getting back from the Tour I have strongly kept in touch with others from the delegation as we all embark upon new chapters of our lives. I was inspired to give back to the organisation and enjoy frequently volunteering at UN Youth events, meeting new people and making connections. GDT changed my outlook on sustainable development, helped me make lifelong friends and connected me with an organisation which encourages civics interaction through youth facilitating youth events. It is fair to say my life was clearly changed for the better. 
– Emily, 18 Wellington
When people call something life-changing they usually mean it in a cliched way, and I guess it's unfair to say that GDT totally changed my life, but it did make it better and it made me better. I'm now a much more confident, assertive person than I was before embarking on the tour. Seeing the world has given me experience that is directly applicable in the law and arts conjoint I'm studying. GDT was an amazing experience and I'm feeling it's impact still. I'd recommend it and other UN Youth events for anyone and everyone. It was such a great time.'
– Chris, 18 Auckland
The Global Development Tour was an incredible experience and something I had dreamed of for a long time. The message that stood out to me the most from our meetings was that development and sustainable development was not an isolated problem that only impacted small parts of the world far away from me, instead if we truly want change and progress, then a concerted united global effort was necessary. This has completely changed how I viewed a number of global issues. Following the tour, I have had the chance to speak to groups about my experience and helped to organise Victoria University's very first Sustainability Week. But more importantly to me, it has shifted how I talk about international issues such as the health of our waters, gender equality and ending poverty. I have realised that I can make a difference in my own life, in my community and in my country – which all contributes to changing the world and being a global citizen.
– Manraj, 18 Wellington
By Julia Caulfield