When you're thinking about dream cities, you're instantly bombarded with images of Parisian wining, Italian dining, or the great New York adventure. After a while, as fantasy turns into a comprehensive bucket-list, you begin to remember less mainstream, equally dreamy cities.
What would Tokyo be like?
Ah.
I'm glad you asked.
Tokyo is beautiful at sunrise, kindness and quirks and some damn tasty food. More so than that, however, Tokyo has been an industrial, innovative, technological paradise since the end of World War II. As we learnt after an incredible meeting with New Zealand Embassy First Secretary Richard Griffin, Japan has been a world leader in the market, boasting the third most successful economy in the world – with a whole lot to show for it. From the likes of Toshiba, Uniqlo, Mitsubishi and Toyota, Japan are not only industry leaders, but many Japanese companies, as we learnt in our meeting with Mitsubishi Electric, implement a series of values such as equality and integrity that enable them to the best of the best.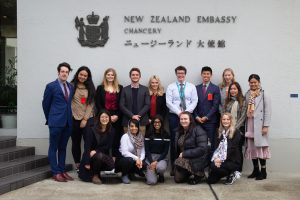 Japan sets the benchmark.
The educational value gained from our meetings exceeded our expectations. The New Zealand-Japan relationship is one forged from many years of warm relations and interactions. Air New Zealand and the Australia New Zealand Chamber of Commerce Japan taught us that business in the region is only possible if we embrace these relations – involving the youth in opportunities, embracing cultural similarities and celebrating the differences. After all, it is through differences that we grow and continue to shape our unique world view.
The delegation enjoyed a number of incredible experiences – from exploring Harajuku, crossing the world's busiest pedestrian, Shibuya Crossing, and devouring tasty treats on the city streets, Japan was paradise. As a country that many of us had dreamed about since we were young – finally admiring the sights of the Sensoji Temple, eating sushi in Japan and getting lost amongst in a sea of people and a sea of potential, Japan set the already high benchmark even higher.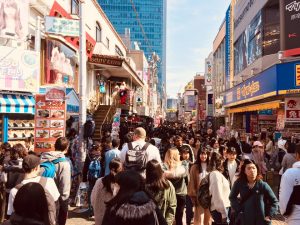 The future is brighter than a neon stand outside the Shibuya Mark Mall for Japan, and as architects of the future, it is our right to direct it. May we do this as responsible leaders, friends to our allies, and lifelong learners alongside our neighbours for the many years to come.
Iri Edwards & Holly Sutich