The first glimpse we had of Shanghai was like playing Minecraft with the view distance set to tiny. Everything was shrouded in sheets of grey fog.
Our overnight train pulled in at about 7am: cue the mad half-asleep dash through the metro system with big bags over our shoulders and under our eyes.
We were staying in Yuyuan near the famous gardens of the same name.
After dropping our bags off we got delicious soup dumplings (a first for many of us). A second wind carried us through the day and the gardens will always be a highlight. They were filled with gorgeous ponds and rockeries.
Some of us then went up the Shanghai Tower and were treated to an amazing sunset and view across the city as night fell.
Monday the 25th brought on a full meeting schedule. Mary-Jane Bethell and Suzy Fewtrell briefed us on what New Zealand Central does in providing a space for kiwi businesses to professionally connect with foreign partners. We also learnt about KEA, a global connection of NZ expats.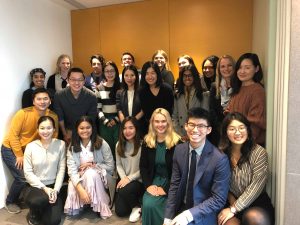 Our next meeting was with Nicole Mao at PCNZ as well as smaller presentations from the brands within the group such as Villa Maria, Silver Fern Farms and Landcorp. The unique experiences of each business gave us a snapshot of the differences within the Chinese market and highlighted how working collaboratively is incredibly important.
Our final meeting was with the NZ Consulate General. Andrew Robinson and Sarah-Rose Williams gave us a crash course on China as a whole and their roles in the Consul.
Tuesday dawned with two more meetings. First up was Aaron Marsich and Eleni Yianna Hogg from tribal brands Asia. They highlighted their website Bullseye which helps NZ companies find the right channel into the market.
After a hurried snack we started meeting two with Richard Zhu from United Media Solutions. They help NZ companies bridge into the Chinese market by assisting with business and social media strategies. The social media environment is very different to what we are used to. These insights helped us appreciate the waters through which NZ companies must wade, but gave us some insights about how to get successfully out of that moat.
With our meetings in Shanghai completed it was time to don our tourist hats. First we explored Nanjing road and ended up at the Captain for dinner.
We got an early night in preparation for our very early start the next day. Disneyland was on the agenda! An hour on the metro followed by an hour of waiting in line gave us time to get even more excited! Finally the gates were breached and we flooded into Disneyland and straight to the Tron ride. This roller coaster was the first for some of the delegation. It was incredibly exciting see their smiles and grins afterwards despite the nerves.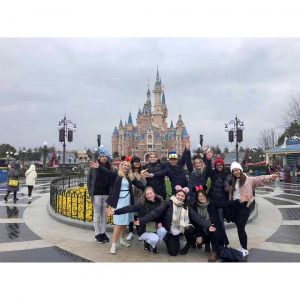 After Disneyland some people went to the Fake markets to do some shopping.
Then we departed the next day!
Nathan Hotter & Samantha Wood