Previously known as Canton and the trading hub of China, we at last arrived in Guangzhou, China!
Guangzhou is the third largest city in China, with a population of over 13 million people, transparently obvious when we were greeted with a vast crowd we battled through with our suitcases to the metro in order to reach our accommodation.
Once we had settled in, a few of us explored the streets of Guangzhou to find a restaurant to eat authentic Chinese dishes, while the rest stayed behind to rest to prepare for a big day of meetings.
The following day, we met with ACG Education, the NZ Consulate General based in Guangzhou, MFAT, Education NZ, Phil Jones the NZ police advisor and Aaron McKenzie – owner of Social & Co restaurant.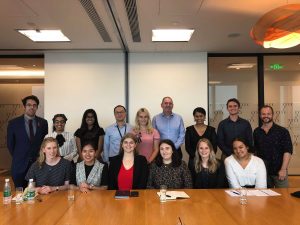 Altogether, we concluded the meetings enlightening and informative, as we gained insight to the robust, mature relationship NZ and China has as well as first-hand experiences of what it is like to live in China as a foreigner.
That same evening we had dinner at Aaron's restaurant – Social & Co. It was one of many highlights for all. We enjoyed an incredible Kiwi styled food platters in China. We had classic Kiwi dishes like steamed NZ mussels, calamari, beer battered fish, fries and pavlova! Aaron's restaurant is the only restaurant in China that does not serve rice, noodles, like every other Western restaurant in China tends to do.
The next day, a few delegates decided to travel to the Xiaozhou water village, filled with local handmade craft boutiques alongside, artisan cafes providing great tea and rooftop views alongside a river.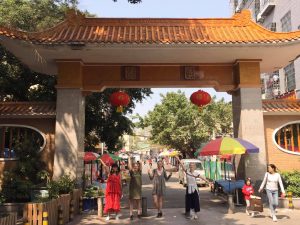 Others explored the many malls we struggled to find the exits in, visited temples and shrines as well as the Canton Tower with a 360 view of the whole city, and ended the day with the Chimelong International Circus.
Our last day, unfortunately, was raining. However, it did not prevent us from seeing the Giant Pandas (first time for many), feeding the giraffes and the many selfies taken at the Guangzhou Zoo.
Later that day, we concluded our time in Guangzhou at a traditional Yum Cha restaurant, where we got to taste delicious dumplings, cha seu baos, chicken feet, egg tarts and tea; all leaving the restaurant will full stomachs gradually making our way back to the hotel to make our way to the train station, departing on an overnight train split into four groups squashed in a tiny room trying to fit our luggage in any available gap ready for the 11-hour journey ahead. Some laughing sharing their highlights and lowlights, winding down with face masks and many ear popping later, we arrived at our next destination – Shanghai.
Vaiola Tauti & Nathalie Edwards