Ho Chi Minh. A small man with a humble disposition. Ironically, nothing could be more different from such a figure than the city named after him. Ho Chi Minh City, formerly Saigon, is a bustling, vibrant whirlwind of colours and lights that don't care for a second about getting all up in your face. It barely took us any time to realise this as we rolled into town just as the sunset and the streets came to life. After dinner at a balcony restaurant and a short roam through the streets we crashed into bed, arising early the next morning for our tour of the Mekong River Delta.
Our tour guide Ahn cracked jokes and pumped us with facts. One hour later we were on a boat on the delta, exploring mangrove clustered islands where we held live snakes, drunk fermented dead ones and feasted on Vietnamese food. A highlight was a visit to a major Buddhist temple that afternoon, which featured two giant Buddha statues and incredibly beautiful gardens. Our day ended with an amazing shared dinner and a visit to the tallest point in the city. The amazing views over Ho Chi Ming from the Saigon Skydeck simply cannot be put into words. Spread out in front of us, spanning far over the horizon in all directions were a countless number of buildings, broken only by rivers of light formed by infinite headlights stuck in traffic.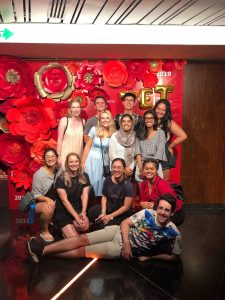 The next morning saw us up early again, this time dressed for business. We headed off to meet with Saigon Co-Op, Vietnam's largest supermarket chain, where we learnt about their business strategies and emphasis on supporting local communities; their supermarkets stock 90% local produce. That afternoon, we were given a personal guided tour through a Saigon Co-Op supermarket, food outlet and hypermarket – a colossal store stocking everything from groceries to clothes, musical instruments and more. After an amazing dinner of pho, we hit the Saigon Night Markets in what was our first time haggling for many of us, breaking deals left, right and centre as we tore prices down to numbers that were still probably quite high but low enough to keep our pride intact.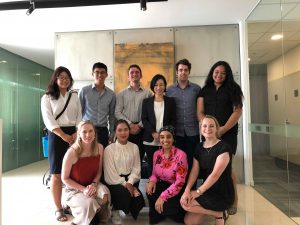 Day three featured an incredible meeting with Thao Nguyen at KPMG Vietnam. An amazing and inspiring former refugee, Thao has strived against immeasurable obstacles in her journey from poverty and racism in Australia to high profile legal work in Vietnam and beyond. Aside from empowering us with the knowledge that any goal can be accomplished with enough dedication. With a quick break to try weasel poo coffee, we then moved to the NZTE for a presentation by Rose Nguyen (no relation). Rose gave us a presentation on numerous aspects of Vietnamese commercial society that was as comprehensive as it was broad, enlightening us on several little-known facts about Vietnam essential to any external company looking to do business in the nation.
A break from the chaos and crazy fun of Ho Chi Minh came in the form of a sobering and deeply moving visit to the Vietnamese War Museum. Nothing could prepare us for coming face to face with picture upon picture of innocent children horrifically deformed by American war crimes in the region. World peace is often said to be a pipe dream but there is no doubt that each of us left that place determined to make it happen.
Our departure the next day was heralded by many tired mumblings as we hauled ourselves out of our bunks at 4am, boarding a shuttle for the airport. There was something relaxing yet eerie seeing the streets of such a bustling metropolis so quiet in the predawn light. For better or worse, we didn't reflect on this site for too long as most of us drifted back to sleep, waking with a start as our shuttle pulled into the airport. We turned back to look at the Ho Chi Minh skyline beyond a patch of jungle and numerous snaking rivers before striding forwards to board our flight. Ho Chi Minh may have been chaotic and in your face, but it was time to face a new challenge. Destination; Guangzhou.
Also, Thank you so much to the Vice Chancellors Support Fund from the University of Auckland who helped make this trip possible for the two of us.
Dinuki Karunasekera & Mark Howard