Selamat Datang di Indonesia
Halo, Selamat Datang di Indonesia! Welcome to Indonesia!
Our time in Jakarta was a rollercoaster, every day unpredictable and different.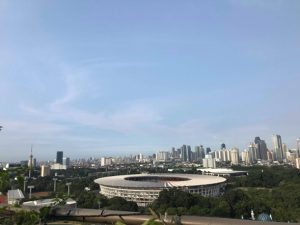 The busy streets, the friendly people, the heat and simply being Jakarta celebrities – all had its challenges.
On our first day in Jakarta, we began by facing the ultimate quest… crossing the road!
Despite almost leaving a delegate stranded on the other side, we all made it across safely.
We finally found ourselves reunited at an old market selling vintage keepsakes from centuries ago.
Then, wandering around the Indomart supermarket, marvelled by all of the exotic treats, was coincidentally the first of many times we were asked to take a photo. Afterwards, we ventured to The Monas National Memorial, conquering the heat, uneven footpaths and exhaustion. However, we soon found we were in fact the attraction, admired and photographed by the locals. Finally, after a lengthy morning, McDonald's fries brought us together as a group.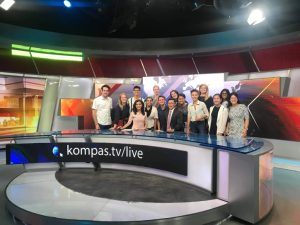 The next few days were a succession of enlightening meetings with several influential organisations, including The Indonesian Institute, the Indonesian Ministry of Foreign Affairs, the New Zealand Embassy, The ASEAN Foundation and Kompas TV.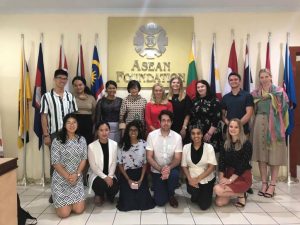 Highlights for many of the delegates were experiencing authentic Indonesian cuisine, discussing socio-economic issues within Indonesia and the phenomenal views of the Ambassador's residence. Here we got a chance to meet inspiring diplomats, learn about the New Zealand-ASEAN relationship, as well as the varied roles of the New Zealand Embassy. Additionally, Kompas TV was a unique experience, considering it is an independent, multimedia platform in Indonesia.
Coming to the end of our journey, we overcame our fears and tried street food; including the best chocolate crumpets, from the warmest soul and his homemade food cart! Immersing ourselves in the local culture, we had a fleeting visit to Istiqlal Mosque, guided by an expert in photography -getting those 360-degree angle pictures. Ultimately, we concluded our trip 56 floors up at the Skye Bar and Restaurant, indulging in an epic meal in a truly epic city!
Overall, Jakarta was full of contrast, challenges and reflects a developing nation in a globalised world.
Terima kasih! Thank you and see you in Ho Chi Minh City!
Oulaykham Siphandone & Hayley McKay