Saturday morning in Paris kicked off with a walking tour throughout the city. We started at Notre Dame, weaved our way through one of the first – and most narrow – streets in Paris before Hausmann's 'renovation', and ended at the Louvre. One fun fact we learnt was that Notre Dame was a building that Parisians initially hated and thought was an eyesore – before a man named Victor Hugo came along and wrote a novel called The Hunchback of Notre Dame in order to save it from being destroyed – ever heard of it? Another fun fact was that if we'd spent 30 seconds looking at every single piece of art in the Louvre, it would take 100 days with no breaks! The Delegates thoroughly enjoyed viewing several pieces of famous art: the Mona Lisa, the Winged Victory, and Liberty Leading the People, to name a few.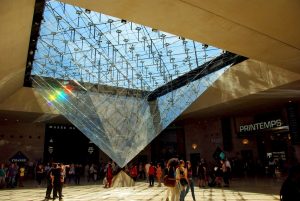 The next day was our one and only Director's birthday! The 'surprise' in the morning consisted of numerous chocolates, a couple of cards, and even unravelled the poetic prowess of a couple of the Delegates. The Delegation then split into two: one group went to explore Montmartre and Sacre Coeur, while the other group trekked out to see Versailles Palace. We regrouped in the evening to fittingly end Mitchell's birthday with a delicious French chocolate gateau.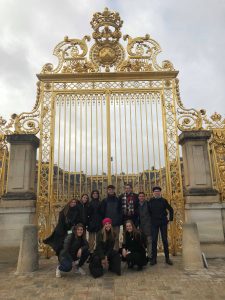 The Sustainable Development Goal attributed to the City of Light was Goal 8: Decent Work and Economic Growth, so it made sense that we meet with the United Nations Educational, Scientific, and Cultural Organisation (UNESCO). On Monday morning, we were introduced to Tim Francis, a New Zealander working at UNESCO, and Julie Saito, an Emmy-award winning journalist who is now a Specialiste of Communication. Tim discussed how the majority of UNESCO's work was actually in the 'Educational' sector of their title, while Julie invited the Delegates into a discussion around the best ways the SDGs could be engaged with by youth. The Delegates thoroughly enjoyed the meeting, which ended with a tour of UNESCO's building.
That afternoon, the Delegation did a bit more sightseeing, with pit stops at the Eiffel Tower and the Arc de Triomphe. We ended with a leisurely stroll through Champs-Elysees, where many Euros were dropped on Laduree macarons (although no one can quite bring themselves to regret it).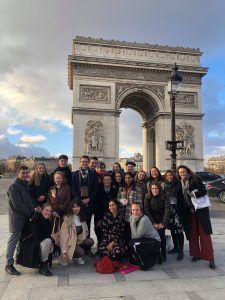 The next day was sadly our last in Paris. We had an incredible meeting with the New Zealand Embassy and Permanent Representative to the Organisation for Economic Cooperation and Development (OECD). We met with a dynamic duo of Roger Dungan, a scientist-turned-diplomat and Ginny Chapman, a diplomat with a career history based primarily in the former NZ Aid programme in the Pacific. The Delegates asked a series of questions relating to New Zealand's involvement with the OECD before the meeting ended with a networking session (supplemented with French pastries, of course!).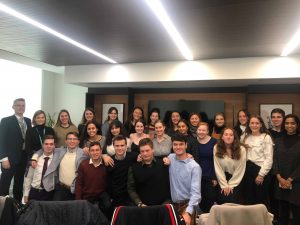 Next up on our itinerary: Berlin!