The Syrian Refugee Crisis
2018 marks seven years since the beginning of one of the worst refugee crises in living memory. Warring factions, the rise of extremist groups and an international community plagued by indecision and conflicting agendas have culminated in one of the worst humanitarian disasters since World War II. Millions of Syrians have lost their homes, their communities, their relatives and their lives. Millions are displaced, living in substandard and dangerous conditions, unable to access adequate sanitation and healthcare. Hundreds of thousands of children are unable to go to school. Moreover, for the people who have fled to neighbouring states or as far afield as Europe, there remains the constant question of when, if ever, they will be able to return to their homes.
Despite promises, allocation of resources and military intervention, the international community has failed to stop the escalation of the crisis in Syria. Refugees may express their desire to return to their homeland. However, it is unclear what will be left of the homes and the life they once knew when they return. A generation of children has been born as refugees, with no experience or understanding outside of a life of instability. It is unclear what will become of them and what sort of futures they may have.
It is all too easy to dissociate from the horrors happening in a far-away place. In New Zealand, a peaceful and stable country, our only understanding of the crisis unfolding in Syria comes through our TV screens. We can turn the screen off and turn away from a situation so unimaginable to us that we almost believe it is not real. We cannot fathom how nervous and unsure the refugees taken in by New Zealand must feel when they arrive in our tiny island nation. We cannot understand the horrors they may have faced and the hardship they endured before arriving here. A refugee's journey does not stop once they have reached the physical safety of a country like New Zealand. They face adjusting to a new culture, society and way of life which is vastly different to what they know. They face language barriers, limited employment prospects and isolation.
While no individual human being can stop a crisis on their own, we can come together and do what we can to help. New Zealand may be a long way from Syria; however, New Zealanders can support the refugees who arrive here to adjust to their new home. We have the power to show to our new neighbours that we care about them and the horrors they have fled, that they will be welcome among us, no matter ethnicity, religion, culture or language.
It is easy for individuals to say that there is nothing they can do – someone else will fix the world. It is much harder to tell yourself that when you are sitting opposite someone who has faced hardships worse than you will ever know. You can turn off your humanity by pressing a button on your TV remote, but it is much harder to turn your back on a person sitting across the table from you.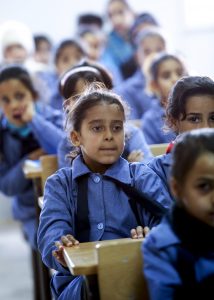 By Grace Thurlow