5 Exciting Outcomes of the Paris Climate Agreement So Far
Today's saturation of bad news and its constant reminders of our "impending doom", has undoubtedly created a worldwide need for reassurance and progress. One ground-breaking leap forward for the planet was the formation of the Paris Climate Agreement in 2015. Created within the United Nations Framework Convention on Climate Change, the accord is committed to igniting international response and action. The overall goal is to limit global warming to well-below 2 degrees this century, while also improving the ability of countries to manage the forthcoming impacts.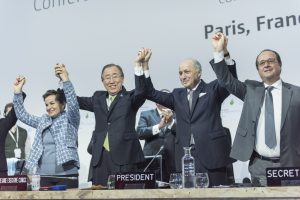 Despite Trump's internationally criticised withdrawal in June 2017, the agreement is driving the incredible change vital to our world's survival. So, to help restore your faith in humanity and lift some spirits, here are 5 examples from across the globe of the Paris Agreement in action.
Don't lose hope on humanity just yet. If these examples of progress prove anything, it's that when people unite, powerful change happens.
By Laura Weir