International Women's Day
In a world first, New Zealand women won the right to vote in parliamentary elections in 1893. Since then, the role women play in society across the world has evolved dramatically, with women entering academia, the workforce and taking control of their own destinies in a way which was previously impossible.
In 2017, New Zealand voted in its third female Prime Minister, Jacinda Ardern, who will inspire a generation of young women. However, the simple fact of having a high-achieving, confident and respected woman in a top leadership position can too easily overshadow the multitude of issues which women face across the globe. The gender pay gap, gender-based violence, discrimination, workplace harassment and child marriage are among a plethora of challenges which women face every day. While these issues remain present in developed countries such as New Zealand, they are often felt more sharply by women with access to fewer resources, limited education, or who live without basic rights and protections. Therefore, on International Women's Day, it is important to highlight the monumental achievements of some lesser-known women's rights activists and leaders, who campaign for rights and freedoms for women, just as Kate Sheppard fought for New Zealand women's right to vote in the 1890s.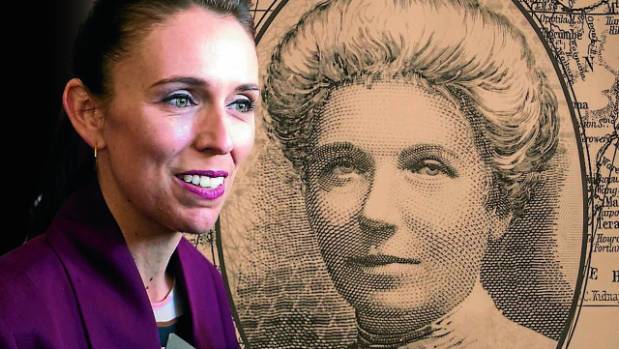 Prime Minister Jacinda Adern and suffragette Kate Sheppard- Image from stuff.co.nz
Across Iran, women risk prosecution, fines and imprisonment by violating the state's gender-based dress codes in protest. In the United States of America and across the world, the #metoo movement has brought to light the extent of sexual violence and harassment which continues to permeate developed societies in the 21st Century, affecting even the most powerful and privileged of women. In 2011, a woman was arrested for doing something which millions of women across the globe do every day without incident. Manal al-Sharif was arrested for driving a car, which violated Saudi Arabia's strict gender norms. She too began a social media movement, which brought the laws restricting women's freedoms in Saudi Arabia to the forefront of the world's minds. It is a reminder that there is still a huge amount of work to be done before gender parity can be achieved.
When women in the 1800s campaigned for the right to vote, it must have seemed like an impossible task. For al-Sharif and many other human rights activists like her, trying to improve women's rights in Saudi Arabia may have felt futile. However, in 2017, the Saudi King announced that, from mid-2018, Saudi women would be granted driver licences and be able to legally drive, a victory for al-Sharif and others like her, who fought for what they believed in. International Women's Day provides the opportunity for young people to examine their place in society and the remarkable achievements of their predecessors, who played such a vital role in shaping the societies we live in. 
By Grace Thurlow