Charles Dickens noted that Paris "is the most extraordinary place in the world" and as a delegation, we understood its charm. Our first two days were a wintery weekend in Paris but we were lucky enough to explore the city's many gems.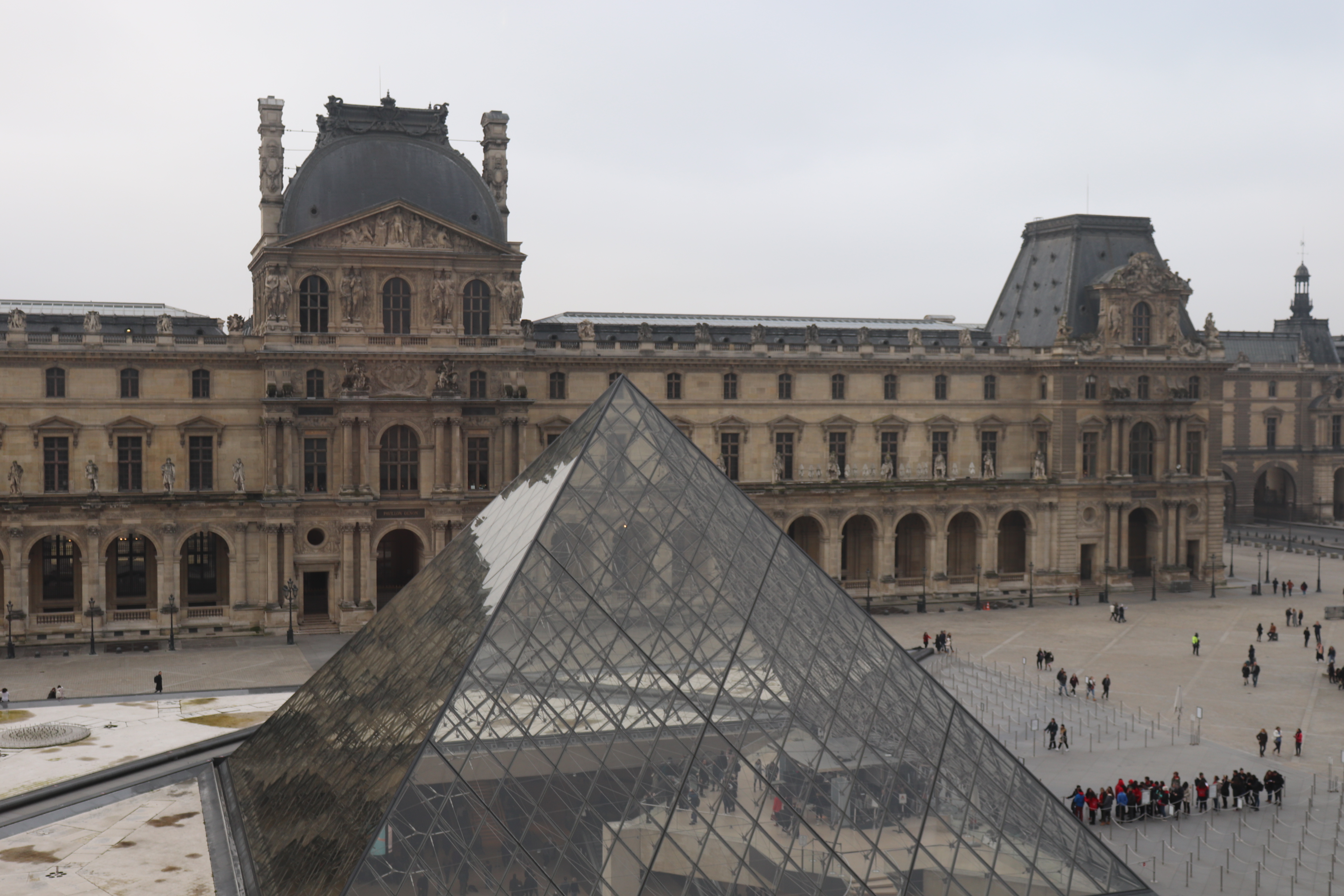 Arriving early to the Louvre to observe the Pyramide designed by I.M. Pei
Photo Credit: Jason
We headed first-thing in the morning to the Louvre to see the iconic permanent artworks (a.k.a. Leonardo da Vinci's Mona Lisa and other artworks) before the lines became too unmanageable. The delegates were very impressed with the variety of collection of artworks here including sculptures from Antiquity, artwork from Africa and Oceania, and Northern Renaissance pieces.
After the Louvre, we walked down Champs Elysees, the famous shopping district of Paris. Delegates had free time to spend around this area before we re-grouped to go to the overarching Arc de Triomphe.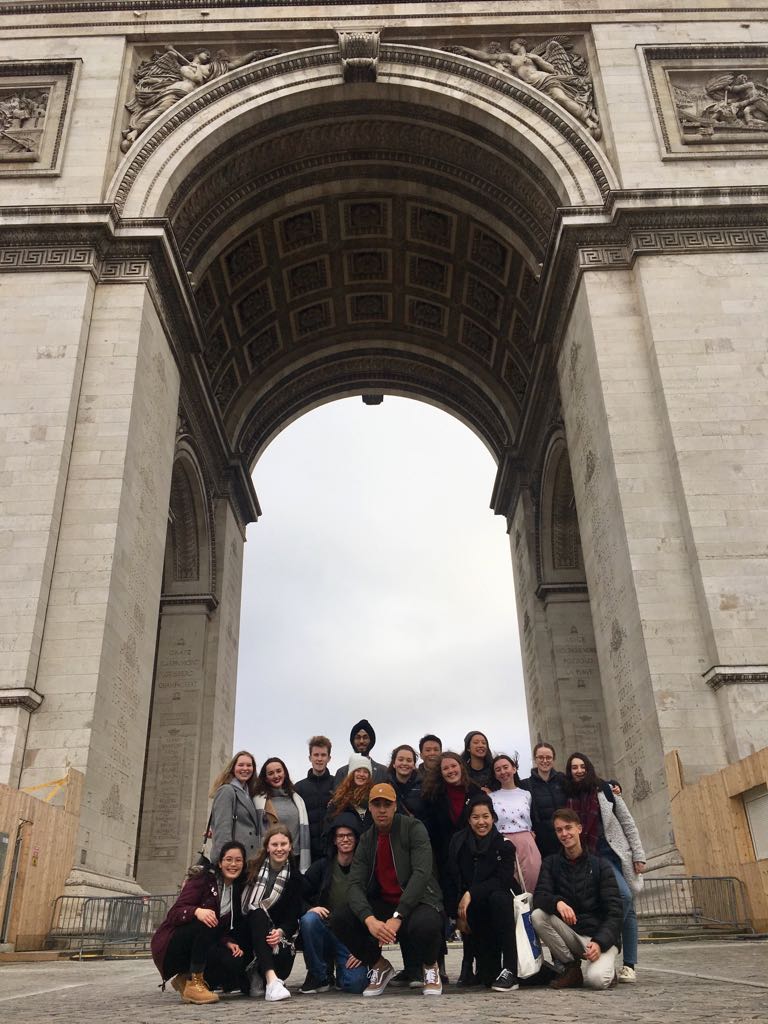 Outside the Arc de Triomphe
After the Arc de Triomphe, we went to the beautiful Parc Monceau to make the most of the sunlight while we had it. It was built in the 17th century, and is one of the most elegant gardens in Paris.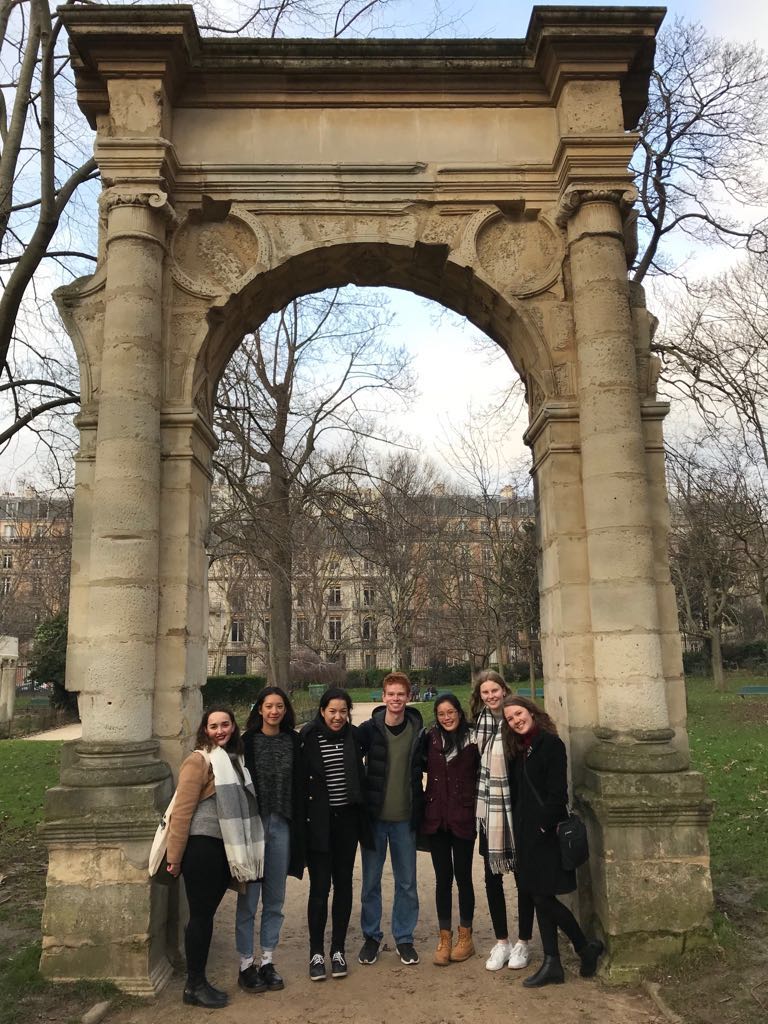 Delegates posing outside a structure in the Park Monceau
We concluded our first day with a lovely dinner at a French restaurant to try the local fare, all very much looking forward to another day of exploring this exciting and creative city.
The next day was a leisurely Sunday and we were fortunate enough to walk along a full Seine River. We were also fortunate enough to listen to part of a service at the beautiful Notre Dame Cathedral. Delegates were able to visit the Crypt and learn more about the ancient history of Paris (previously known as Lutetia during the 2nd and 4th century) or to walk up to the top of Notre Dame.
We then went to the Eiffel Tower and although we were not able to climb to the top due to construction, it was a fine day to be seeing it from the base.
After we had time for photos and viewing of the Eiffel Tower, our delegation went to see more modern art at the Paris MOMA. There were key American and French modern artists including Monet, Matisse, Delauney, Holzer and Kruger as well as contemporary exhibitions.
And as Parisians say in the title of this blog above, "he/she who lives, shall see."