Berlin: The Reichstag, 'Refugee Crisis' and Ready-set-go!
This morning we received an informative tour of the German Bundestag (Parliament) including the terrace and dome of the Reichstag Building. There were interesting art installations which reminded the members of Parliament of its precarious past and interesting architectural features such as concrete silos for tree roots in the underground tunnel connecting the different section of the Bundestag. The symbol of the Reichstag was designed by Norman Foster to represent freedom and power. The dome of the Reichstag Building is also constructed of clear glass panels to represent the transparency of the German Parliament.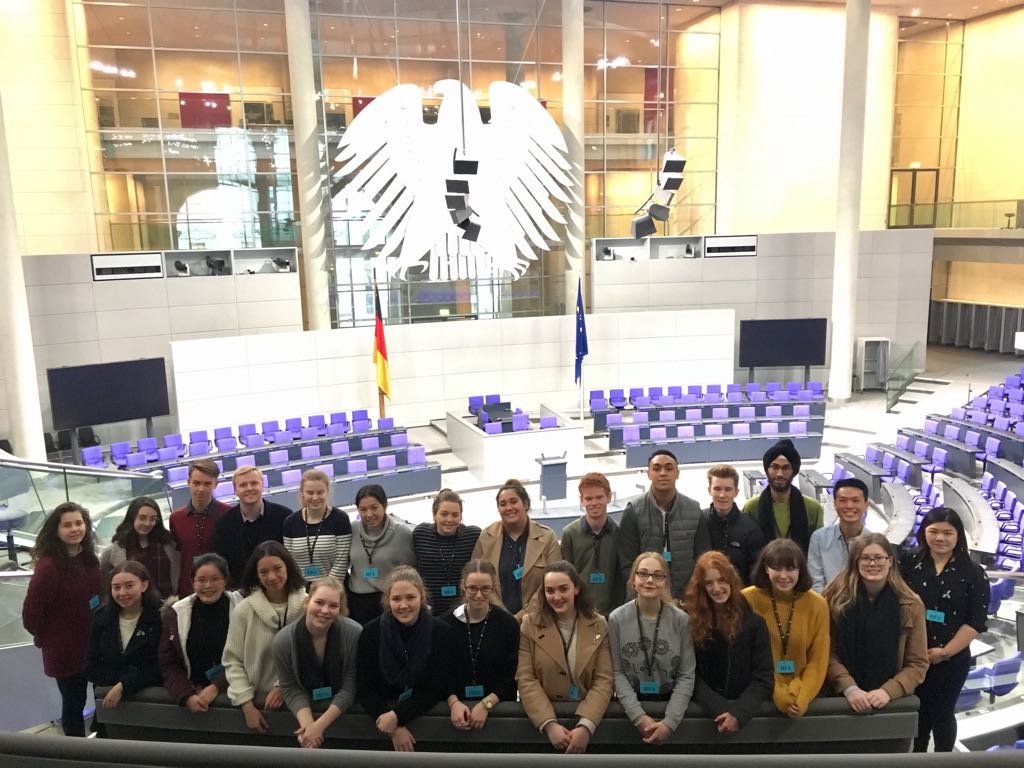 Delegates inside the main chambers of the Reichstag Building
After our tour we headed over to a meeting with the UN High Commission for Refugees (UNHCR) in Berlin to learn how they work to assist and protect refugees. The UNHCR acts as a monitoring body to ensure that everyone has the right to seek asylum and find safe refuge in another State, with the option to eventually returning home, integrating in the new country or resettling elsewhere.
The delegates found this meeting informative because of recent events back in New Zealand and thought it was interesting to view New Zealand's role in this issue from the perspective of Germany and other larger states.
After our meeting we walked over to the remains of the Berlin Wall. In particular, we walked down the East Side Gallery and got to witness some thought-provoking and poignant murals. Some of the delegates even got a replica stamp on their passports of the old stamps which were given when one passed from West to East Berlin. Overall, the delegation thoroughly enjoyed our last day in Berlin.

Delegates posing outside an East Side Gallery mural
And with that, we were off to Paris!