Berlin: From Sachenhausen to Share the Meal
We only had three full days in Berlin and sadly, Germany marked the halfway point of our tour. Despite the intensity and fast-paced nature of each of our days, somehow we still seem to be having a lot of fun (and hence time flies)!
Our first day started with a sombre historical excursion to Sachsenhausen Concentration Camp. The delegates all noted that this was a very educational experience, including giving them some context to the World War II history they have learnt at school. It was interesting to learn that Sachsenhausen was never intended to be a concentration camp, although it later became one, but rather it was designed and built to house political dissidents.
Out of respect the delegates did not take any photos here but we were able to then venture to Bebelplatz where the book burnings occurred outside Humboldt University of Berlin. Some delegates also got to explore the Berlin Cathedral Church or the Alte Nationalgalerie which housed Impressionist and early Modernist art including iconic Rodin sculptures.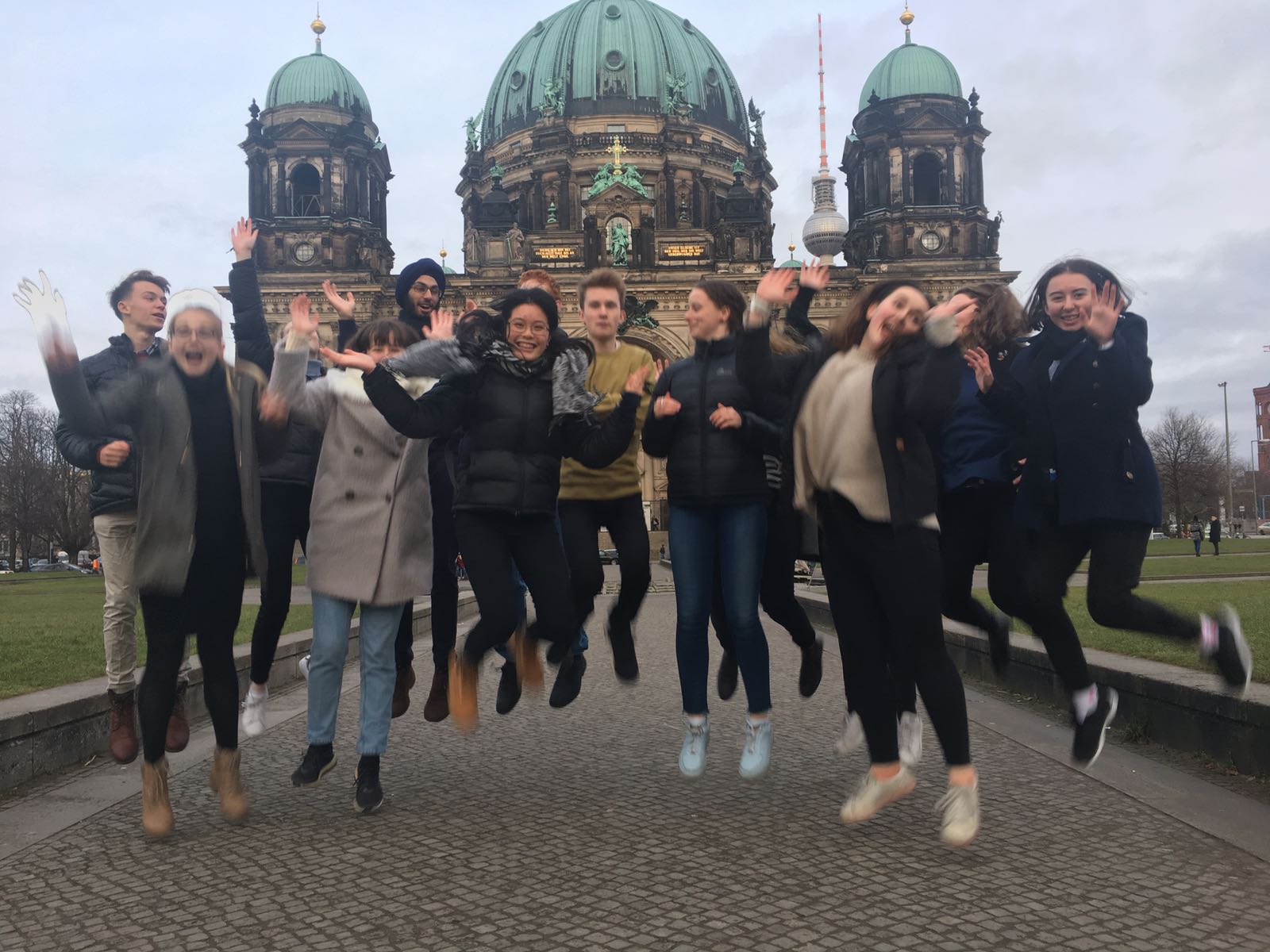 Leaping outside the Berlin Cathedral Church after a day of exploring
Although our morning trip was more serious, we also got to celebrate Hayley's birthday with a lovely dinner together. The camaraderie which the other delegates showed is impressive since almost all of them have only known each other since our December Planning Weekend.
The next day we continued to explore more of Berlin's recent history by going to the Soviet War Memorial and the Topography of Terrors Museum. The delegates were excited to see the Enigma machines and learn about the Gestapo spies whom were employed during the Second World War.
We then followed this walking tour with a meeting with the Share the Meal team. ShareTheMeal is a start-up company which crowd-funds through a smartphone application to fight global hunger through the United Nations World Food Programme (WFP). It enables users to make small donations to specific WFP projects in developing countries and to track their progress.
"The meeting was more about how the Share the Meal app works on a day to day level. It was amazing to hear from another group of millennials doing incredible work. It felt like we could really relate because of our close ages and because of their casual and cool way of doing tangible things with a positive impact on the world. I was really inspired." – Kate
The delegates then explored the central area of Postdamer Platz before they got an early night for another packed day!