New York: UN Office of Legal Affairs and Aunty Helen
After meeting with the New Zealand Permanent Mission, we headed back to the United Nations – our second home in New York. For the third time in even less days, we had the pleasure of being briefed by yet another individual with seemingly endless experience and knowledge. Fanny Schaus, an employee of the Office of the Legal Counsel, explained in great depth the integral functions of the Office of Legal Affairs (OLA). Particularly intriguing were discussions of privileges and immunity awarded to UN staff, and how much work is dedicated to preserving these so that the organisation can operate independently.  The lawyers in the delegation were excited to learn about all 6 divisions of OLA, including the General Legal Division, Codification Division, and Treaty Section, amongst others. Perhaps the most exciting takeaway from this meeting was insight into the Young Professional Programme (YPP), the process of examination for admission as a UN employee. This exam has been up to 8 hours in the past, and includes questions on all areas of applicable law, from Contract to International Trade and everything in between. After learning about this gruelling process, it was clear we had the fortune of being briefed by an incredibly talented, intelligent and accomplished woman.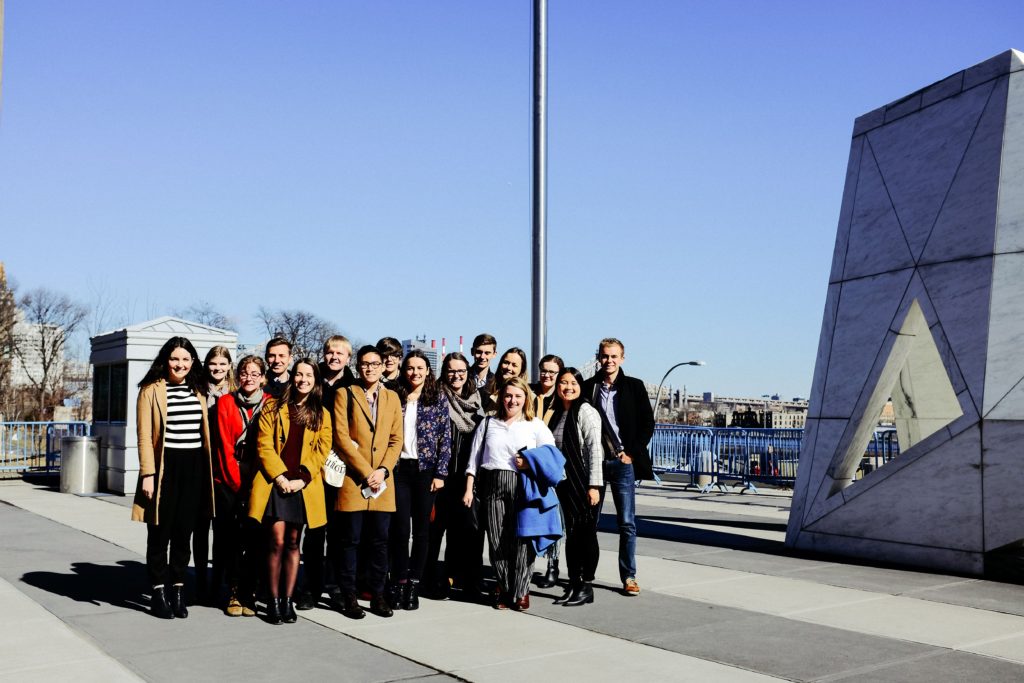 After a quick break for an afternoon snack, and a coffee to calm the nerves – we headed over to the UN Development Programme building and were excitedly ushered upstairs to the 21st and final floor. Positioned around a dauntingly large boardroom table, we all primped and preened ourselves while we waited for Helen Clark to arrive. The room filled quickly with anticipatory whispers of excitement, and last minute peer-vetting of questions. Eventually Helen joined us and almost simultaneously calmed our nerves. She spoke assertively and decidedly about her time as Administrator of the UNDP, and the progress she had seen. Particularly present in her discussion was how the mandate of building a long-term stable society could be applied to conflict zones, who overwhelmingly bear the burden of humanitarian crises like famine. Helen highlighted how the practical success of the UNDP relied on building a foundation of resilience in these susceptible countries, "so that when conflict ends, they will be in a better position to help recover the country". Coupled with a reflection on her admirable work, we were also offered tidbits of life advice and tips for future success – more than a few of us left eager to read Nelson Mandalas "Long Walk to Freedom".
As it approached 7pm, we thanked Helen for being so kind as to take time out of her unimaginably demanding schedule to see us. Echoing her sentiments of earlier in the day regarding social media as an invaluable tool for youth engagement, Helen featured us on her Snapchat – adding a filter, geo-tag and all!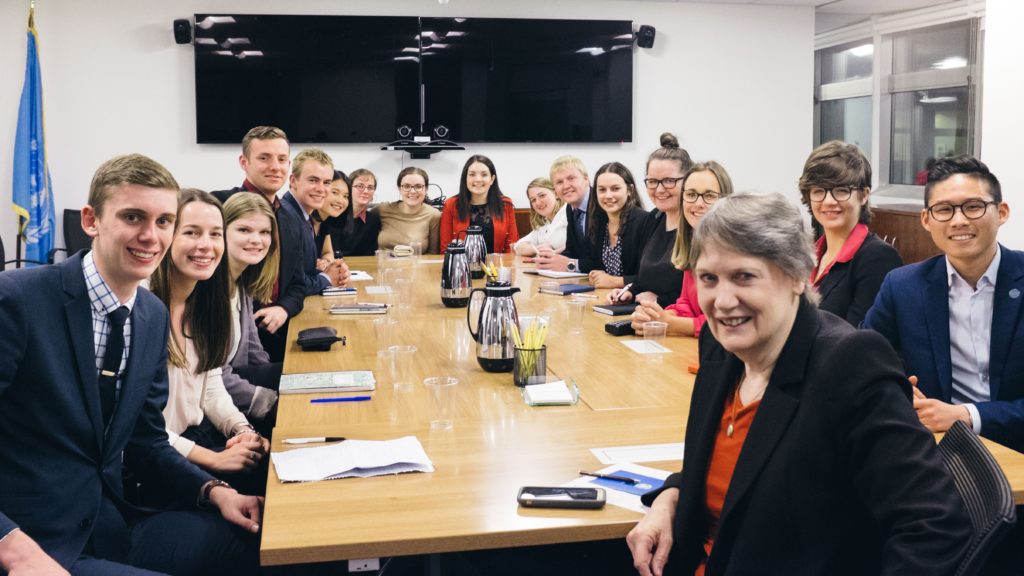 The afternoon of Tuesday the 21st felt like a nerdy dream. Our eyes were opened to an entirely new path for a legal career, one combining the endearing flexibility of international law, and the opportunity to make a tangible difference in the world. Helen Clark exceeded expectations: she was eloquent, perfectly humorous, realistic, and inspiring. New Zealand should be proud to have such an honourable woman representing them on the world stage – and perhaps with her advice, one of us might sit in that same chair in a few years time!
-Caitlin Hicks