Reporting from Harvard National Model United Nations
Harvard National Model United Nations (HNMUN) was four days of intense debate, challenging negotiation and gruelling hours – much like the real United Nations. After all, it started only 10 years after the United Nations itself. This year was its 63rd session, which involved 3,000 university students from all around the world, gathering to find solutions to some of the world's most difficult issues.
We, the New Zealand Universities' Delegation, was assigned to represent India in various committees. Outside of those committees, four delegates applied successfully to Specialized Agencies, which meant that they represented other entities. Each delegate participated in six committee sessions, along with various evening activities: a club night, international bazaar and cocktail hour, and delegate dance. The packed schedule was a shock to those of us who were used to conferences at home – there is much, much less sleep allowed in Boston!
Our delegation held their own in committee sessions and did our universities and New Zealand proud. Madison Hughes, our Head Delegate, was awarded Best Delegate from the Non-governmental Organisation Programme; Gianina Schwanecke was awarded an Honourable Recommendation for her work as Der Spiegel as part of the Press Corps; and Ella Brownlie was also given a Verbal Commendation for her work as Al Quds Al-Arabi in the Press Corps. These are outstanding achievements and the emotional celebrations of all the delegations that won awards at Closing Ceremonies was an experience in itself.
Below are individual accounts of the conference from each committee.
Emily Maguire and Jayden van Leeuwen, Legal Committee
We were assigned to the Legal Committee of the General Assembly, and thoroughly enjoyed our time at Harvard National Model United Nations. The first order of business was setting the agenda – we were pleased when the topic of Amnesty in Conflict Torn States was selected. Through informal negotiations in the hallways and lobby, we quickly found states who shared our perspective and goals and began forming into a bloc. Splitting our time between making speeches to the committee and lobbying outside, we managed to be a part of the coalition of nations that began formulating a draft resolution on the topic.
Once the draft was written, our focus shifted to convincing other states to sign on to our proposal and not the many others that had been drawn up. We were pleased that throughout the negotiation process we managed to keep the majority of the clauses we proposed in the resolution, while still managing to work collaboratively and craft the resolution into one that was favourable to many states. We managed to gather enough support for our resolution that it was one of the three that went to the final vote. Our resolution was unique in that it was only 3 pages long, a pleasant contrast to the up to 17 page US style ones! After a tense vote, our resolution was passed by the committee – an achievement that we were very proud of.
The Legal Committee was filled with a diverse range of students from all across the world. Our first night of outside lobbying saw us meet Canadians representing Brazil, Indians representing Thailand, Venezuelans representing France and Peruvians representing Portugal. After correcting almost everyone's assumptions that we were not in fact Australian, we were always met with a long list of questions and compliments for our country. By the end of the conference the legal committee was well and truly bonded, with friendships cemented through all forms of social media accounts.
Our time at Harvard National Model United Nations overall was an incredibly eventful and full on four days, with our brains and bodies being tested to come up with solutions together to help our world keep spinning. Our experience with the Legal Committee particularly was eye opening and educational, and it was exciting to be able to put what we had learnt in law school thus far into resolutions. We leave HNMUN with a desire to always think critically and creatively to solve problems, with a renewed sense of the importance of being global citizens, and with a whole new set of friends from all across the world who made our experience the great time that it was.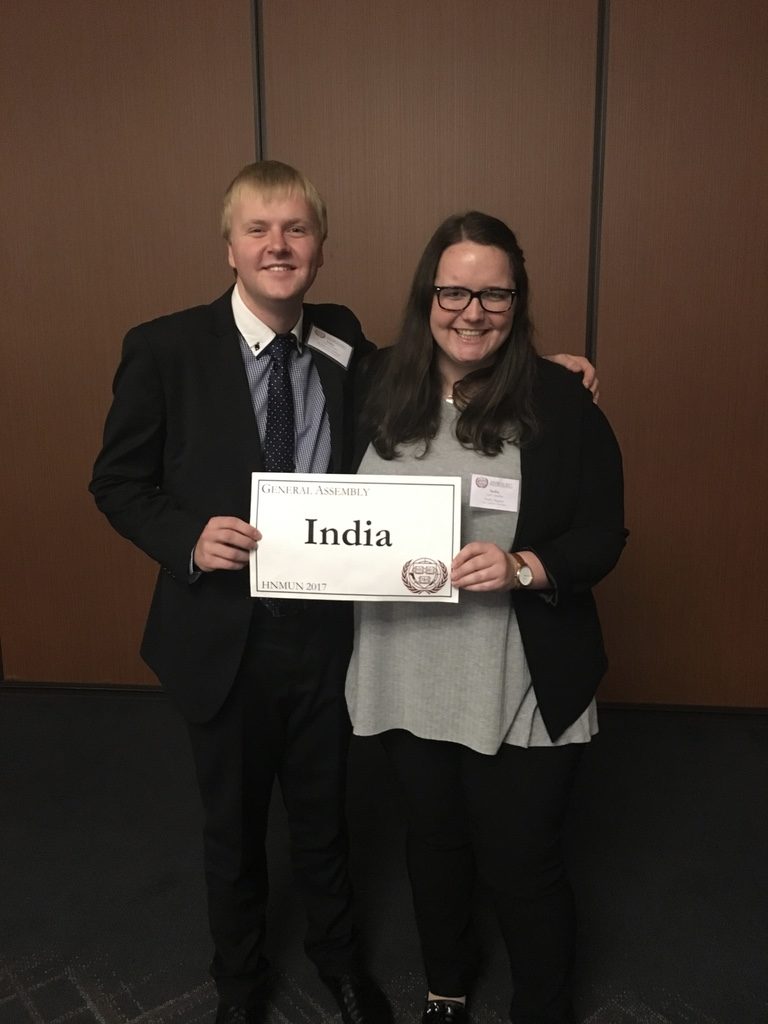 Caitlin Hicks and James Finlay, United Nations Environment Programme
HNMUN was an amazing experience. As delegates of the United Nations Environment Programme (UNEP), we set out to achieve a great resolution which would reflect India's position as a developing nation that is very susceptible to the effects of climate change. In the first committee session, we found ourselves thrust into a world of highly technical and scientific knowledge, which we navigated as best we could, learning more as the debate continued. The first discussion topic was selected was the viability of Geoengineering as a response to climate change, a topic which required familiarity with concepts such as solar radiation management, photophoresis and carbon sequestration. After forming a coalition with several other developing nations, we were able to work together to draft a working paper. By morning the next day, the working paper (produced overnight) had up to 51 clauses and ten pages. We learnt some great diplomacy lessons when lobbying other nations to support our resolution (the United Kingdom delegate proved hard to convince). After warming up to the intensity of the conference, we both took the opportunity to voice India's desire to place a moratorium on the use of geoengineering technology, until further research could be conducted. By Sunday we had successfully passed our bloc's resolution, calling for the creation of an International Agency for Climate Engineering (ACE). After reading more acronyms than our brains could compute, we left HNMUN having made wonderful global friends, stepped outside our comfort zones, and truly appreciative of the opportunity.
Sophie Ross, Special Summit on Sustainable Development
I walk into the Special Summit on Sustainable Development and stand, uncertainly in the door way. The room is an absolute hive of activity as people hastily introduce themselves, make their personal pitch and note who is delegate to which country. I barely have time to scan the scene before a hand shake, a smile and a name are offered to me. Reflecting the tone of the committee, that remained throughout the weekend, one of inclusion and constantly meeting new people.
Our first session decides which topic we will commit our time to; "Development After Health Crises". Some areas of focus included what role organisations such as the UN can play, as well as how we can go beyond responding to pandemics on a one-by-one basis, to looking at creating sustainable development.
The enthusiasm and engagement of the committee was incredible, as was its diversity. I was able to meet people from the U.K, Canada, Europe, South America, Pakistan, Ghana, Kenya, China, all over the USA…! These delegates each brought with them unique insights both into their home countries, and the states that they were representing. Over four days, we debated ideological points of contention, as well as logistical practicalities of possible tangible actions. Undoubtedly, however, the most significant takeaway was not our conclusions on this issue. I learnt a lot from the people I became close with during the conference. I appreciate that although we brought with us very different backgrounds, we came to HNMUN with common interests and a shared desire to make a difference.
Fenella Henderson and Robert Petch, United Nations Committee on the Peaceful Uses of Outer Space
Understandably, it's easy to dismiss discussion of asteroid-related disasters as scaremongering paranoia. Doomsday propaganda, even. Yet the UNCOPUOS at this year's Harvard National Model United Nations conference was tasked with authoring a resolution in regards to such a threat. And, indeed, finding a balance between the pragmatic and the paranoid proved to be a challenge. An acceptable resolution needed to address the detection of asteroids, methods of destruction or deflection, and emergency responses to a strike.
As India, our double-delegation was in the unique position of representing a country that was both economically developing, while simultaneously boasting an advanced national space programme and often-contentious nuclear weapons capabilities. These factors made India an important player in the Committee, which after several days of intense debate, negotiation and lobbying managed to whittle down ideas to produce two draft resolutions pertaining to dealing with asteroid-related disasters. The threat posed by asteroid-related disasters saw the formation of interstate alliances which served to breach traditional geopolitical boundaries. India found itself in support of a Draft Resolution that included the United States, the Russian Federation and China – a dynamic that allowed for interesting and competitive debate within the UNCOPUOS Committee.
The committee also presented delegates with a series of crises, ranging from Donald Trump's press releases to the detection of an asteroid likely bound for Earth. During the final committee session, the UNCOPUOS adopted the comprehensive, 25-page resolution to which India was a signatory.
Lexi Finucane, World Intellectual Property Organisation
At this year's Harvard National Model United Nations I was lucky enough to be part of the ECOSOC (Economic and Social Council) World Intellectual Property Organisation (WIPO). This involved intense debate balancing the need for protection for intellectual property rights and the humanitarian consequences of overreaching protections. Under WIPO member states  negotiate the protection of intellectual property with the goal that protected intellectual property will continue to spurn future innovation and development. The two topics of this particular committee were that of Corporate Espionage and Pharmaceuticals; both extremely engaging and important areas that are remain important in the 21st century.
The committee began with moderated caucus debate in order to determine which one of the topics would be covered over the following days. After much debate and negotiation the committee voted in favour of covering the topic of Pharmaceuticals for HNMUN WIPO 2017.
This signalled the next stage of the committee: working papers that eventually form draft and then final resolutions. Late through the night several blocs worked on forming comprehensive policies to tackle the problems associated with intellectual property and Pharmaceuticals – namely striking the balance between intellectual property rights and costs, and access to affordable medication especially for those in the developing world. Solutions proposed and debated were innovative and expansive, ranging from a system in which companies can buy shares in the development of a drug to reduce risk and upfront R&D costs to recommendations for protection of cultural and indigenous medicinal practices. Throughout the conference various countries lobbied others to join their blocs and help shape the resolution, for example India working with traditional allies Brazil and South Africa under the BRICS informal alliance. After days of debate, lobbying and writing, six working papers eventually were condensed to three draft resolutions,  and the committee was able to vote on the resolution they best thought tackled the issues at hand. However due to a split in the blocs neither of the three drafts were able to reach the 2/3rds majority needed to pass – resulting in an intense evening of further lobbying and negotiations. Finally the committee was able to come to a consensus and balance the views of the developing and developed nations, passing the merged resolution on the final day.
Overall, the HNMUN was one of the most intense and rewarding educational experiences I've been part of. The committee itself allowed me to understand areas of policy and law that I had never come across before and even had me considering other subjects in which my knowledge severely lacks (such as macro economics!).. The high level of debate, coupled with passionate delegates, lead to me to an unparalleled experience and I look forward to taking what I have learnt and putting it back into both my university studies and volunteer roles for years to come.
Meghan Stewart-Ward, Committee on the Status of Women
Being on the Commission on the Status of Women, an ECOSOC committee, was an eye-opening experience and a full-on three days. I was very excited to be on a committee discussing the rights of women, a cause that I am passionate about.
In the commission, I was representing India. In preparation for the conference I had to research India's positions on two topics, one of which we would end up discussing; they were: Gender Inequality in the Workplace (Topic A) and Violence Against Women (Topic B).
It was interesting having to represent India. The country's positions on certain issues facing women are quite different from my personal views, and I thought it might be difficult having to defend these positions but I found that in the process of research I could see where some people might have developed their positions.
The first thing our committee did was to start debating which topic we would spend the conference discussing. We ended up discussing Topic B, Violence Against Women. Working with a bloc of China, Russia, Syria, Bangladesh, and others, we were able to develop a comprehensive working paper that was true to India's interests. Our bloc later merged our resolution into a resolution with Spain, UK, and Switzerland. In the end, we had two resolutions to vote on and we finished the conference by passing both!
Sam Walker, Historical Bretton Woods Conference, 1944
In 1944, the World had just been through the great depression, and the Allies were nearing victory in their World War II campaign. Delegates from 44 countries came to discuss how the international economic infrastructure would mitigate further recessions, and prevent the economic animosity that engendered the bitterest of all human conflicts. The goal was to create institutions that would encourage collaboration, cooperation and cohesion as the world resurfaced from the ashes of the devastating conflict.
Our committee was presented with this behemoth of a task, instructed to be the architects of international finance for decades to come. The challenge was eagerly accepted by all those in attendance. The enthusiasm and engagement in the room was palpable as each delegate presented their interpretation of the events and the solution through the lens of their country. In this committee, I represented India, on the cusp of gaining independence from the British, seeking to establish a world of opportunity for it to maximise its development prospects.
Intense negotiations ensued, as working papers turned into draft resolutions. Mergers were necessary to collect votes, and create more robust solutions to the problem. The last committee session ultimately culminated in a tense, close fought debate between two blocs. Fortunately, the resolution I sponsored passed by one vote in a tense final voting session.
Overall, the whole conference an enlightening experience from people struggling to understand my accent, to hearing about the lives of other delegates home countries, to trying to design the international economic system from scratch. The conference was very rewarding and will be fondly remembered.
Julia Wiener, Government of the United Arab Republic, 1958
I spent my four days at the Harvard National Model United Nations as Dr Nur al-Din Tarraf, Deputy Prime Minister for Justice the United Arab Republic. It was February 2nd, 1958, and Nasser's Egypt had just united with Syria.
Ours was a specialised agency with a strong crisis dynamic, a different angle to Model UN than the committees I was used to. Rather than writing and debating resolutions as existing UN member states, thirteen of us were plunged backwards in time to see if we could make a short-lived historical union work.
I was new to how crisis committees work in the United States, so it took me a while to use my crisis powers to my minister's full ability. Writing covert notes to characters fictional or real, every member of Nasser's cabinet plotted to advance their own power and undermine the rest of the cabinet. Often, these plots were to destroy the very UAR we were given the task of governing. I chose a different tack at first, attempting to make the country work. I wrote to my counterpart in Syria for advice on re-invigorating our now common justice system and sought peaceful reconciliation with the unfriendly Arab Federation.
What I loved about my specialised agency was the pace of the plot. Every day became a new year, and at shorter and shorter intervals we would receive crisis updates moving the plot forward. At various points King Hussein of Jordan expressed his wish to join our pan-Arab union, the Ambassador to the United States was mock assassinated before our eyes, and the USSR was offering us 100 Billion USD in exchange for a right to build a military base by the Suez Canal.
That a committee had a narrative was a completely new part of MUN for me, and I appreciated that it was driven by the delegates themselves. Crisis updates were responsive not only to the plotting of individual ministers, but to the directives we debated, voted on, and passed as a whole. We were confronted with the consequences of our decisions: often unpredictable, sometimes counterproductive, but always delightfully clever.
Madison Hughes, Greenpeace International
At the conference I was lucky enough to be a member of the Non-governmental Organisation Programme as a representative of Greenpeace International. What this meant was that unlike other delegates who were assigned to particular committees, I was free to roam around whichever committees I desired. This allowed me to offer Greenpeace's perspective on a wide variety of issues. Most of my time was spent in the UN Environment Programme, however, as this committee was the most relevant to Greenpeace's cause and thus called for the most input. In this committee, I pushed for campaigns to change consumer behaviour  while discussing the topic of climate change and geoengineering and advocated for a global shift toward veganism when discussing the future of fisheries, a perspective which was surprisingly well-received.
Ultimately, being part of the NGO programme was an incredibly fulfilling experience. In particular, I found other delegates to be very receptive of NGOs. I was overwhelmed by the number of delegates who sought my endorsement of their proposals as a selling-point when pitching their ideas to others. It seemed that Greenpeace's seal of approval on a proposed solution was a very valuable negotiation tool. Further, this experience really taught me the value of NGOs in the international arena.
Gianina Schwanecke, Der Spiegel (Press Corps)
This year's Harvard National Model UN conference was an unparalleled experience which has taught me as much about myself as it has about the art of international diplomacy and negotiating. Engaging in a conference which boasted some 3,000 students – many the brightest young leaders from around the world – challenged me to rethink my capabilities.
In the lead up to the conference, researching Der Spiegel allowed me to put into practice the media analysis skills I had learnt throughout my years at Victoria University.
Learning to write through the prescribed lens of my assigned newspaper allowed me to rethink my own biases and offered me first hand experience of life in the journalistic field. From working to tight deadlines, announcing press releases, posting to social media, to conducting interviews and press conferences, life in the Press Corps was as dynamic as it was rewarding.
Finishing pieces which helped shift the dialogue of the debate, or which provided other delegates insight into different topics, made our work tangible. My Press Corps credentials allowed me to wander freely around the conference and engage with delegates in a number of committees.
I greatly value the insight this experience gave me and the friendships I made along the way. Earning an Honourable Recommendation for my writing was a terrific way to end the conference and an even more exhilarating way to kick off my final year of Media and Development Studies.
Ella Brownlie, Al Quds Al Arabi (Press Corps)
At Harvard National Model United Nations, I was in the Press Corps, a committee in charge of reporting on the conference and committee negotiations via social media, and publishing articles on the website. I represented a newspaper called Al Quds Al Arabi, which is an independent pan-Arab newspaper, based in London. Each member of the Press Corps was assigned to a specific committee and had the responsibility for reporting on the activities of that committee. I was assigned to report on the Historical General Assembly for 1991, which was discussing the decolonization of Western Sahara.
As the press corps we were fortunate enough to be able to have a slightly broader view of the conference, as we were also able to visit other committees to write opinions or expository pieces on different policies and initiatives that delegates were pursuing. It was really interesting as well to think about how to best represent the views of a paper with different political opinions to my own.
Another incredible takeaway from being in Press Corps was running press conferences. This was a great opportunity to experience the reality of being a journalist, asking questions of the delegates about their proposed policies – and in turn to witness first hand the power of the press to hold our democratic institutions to account.